REACH24H Korea Reaffirmed as Korean Government's Official Consulting Agency for Expertise and Performance
---
SEOUL, 17 March 2023 – REACH24H Korea was designated again by South Korea's Ministry of Environment (MoE) as the SME (small and medium-sized enterprise) supporting program consulting firm for both K-REACH and K-BPR registration. This is the second time REACH24H Korea has been recognized and designated to be the official service provider in the same program.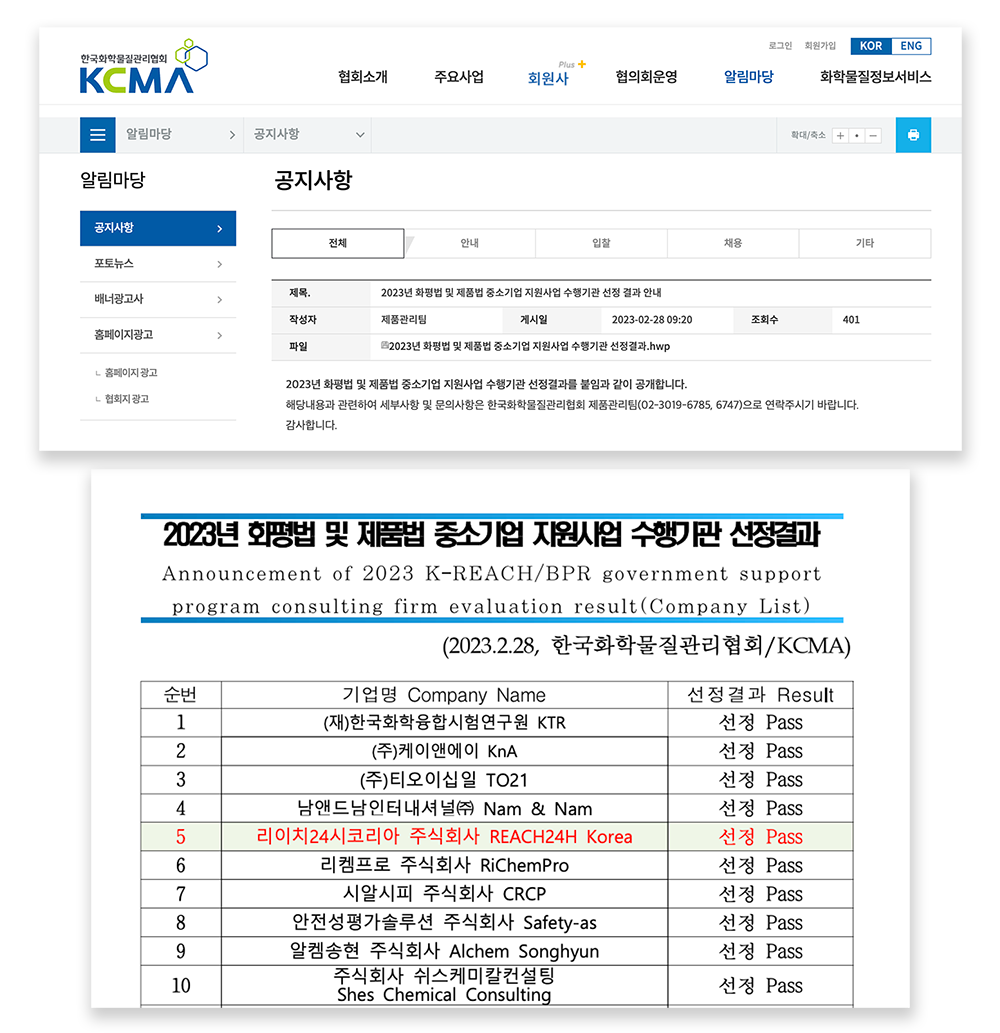 Official Announcement from Korea Chemicals Management Association (KCMA)
REACH24H Korea is once again proud to be recognized by South Korea's MoE. In 2021, REACH24H Korea was identified as a competent partner with the expertise and experience in chemical compliance to assist companies in complying with K-REACH regulations. (See the news)
2023 K-REACH/BPR Government Support Program
---
South Korea's K-REACH/K-BPR consulting service project for SMEs is a government-backed initiative funded by the Ministry of Environment (MoE). This program aims to help companies complete K-REACH/K-BPR projects in Korea via trusted local professional consulting agencies. By providing support in navigating complex regulatory frameworks and ensuring compliance, this program enables companies to successfully introduce their chemical substances and related products into the Korean market.
Supporting as Only Representative in K-REACH/BPR Programs
---
As the Only Representative in K-REACH registrations, REACH24H Korea has helped more than a thousand companies around the world complete their pre-registration, registration, and exemptions for hundreds of We have a proven track record of successfully navigating the complex K-REACH regulatory framework.
In K-BPR compliance cases, we have successfully obtained approval for substances in the first approved batch. Furthermore, we have set a record for obtaining official approval within three months, which is a testament to our proficiency and effectiveness.
As a result of our efforts, companies partnering with us have achieved success in expanding their businesses in the Korean market, with minimal delays or setbacks.
Delivering Top-Notch Services to Global Businesses
---
The fact that REACH24H Korea has been recognized twice by the Korean Government speaks volumes about the company's reputation and expertise in the chemical-related regulatory compliance field. Over the years, REACH24H Korea has established itself as a reliable and trustworthy partner for businesses that need help navigating complex regulatory frameworks. However, the company is committed to going above and beyond, striving for excellence, and delivering exceptional services not only in Korea but also worldwide.
Important Compliance Deadlines Under K-REACH and K-BPR Regulations
---
It is important for companies to adhere to the deadlines below to ensure compliance with regulations and avoid any potential setbacks in their market access process. REACH24H is available to provide professional support and assistance throughout the registration process.
K-REACH: The buffer period for existing substances in the 100-1000 ton range will expire on December 31st, 2024. In order to successfully complete registration and obtain a registration certificate before the buffer period ends, it is recommended that companies initiate the registration process as soon as possible.
K-BPR: It is crucial to note that for active substances with a product type buffer period ending on December 31st, 2024, pre-registration must be completed by the end of March 2023. Additionally, the Plan Report and dossier for active substances must be submitted by June 30th, 2023.
Reference Links
---