South Korea Cosmetics Regulatory Services
---
Regulatory Overview
---
In South Korea, cosmetics regulations are governed by the Cosmetic Act, which serves as the primary legislation. Supporting this act are subordinate regulations, including the Enforcement Decree of the Cosmetic Act and the Enforcement Rules of the Cosmetic Act. Notifications pertaining to cosmetics are issued by the Ministry of Food and Drug Safety. These regulations are designed to govern the manufacturing, importation, sale, and exportation of cosmetics, aiming to enhance public health and promote the growth of the cosmetics industry.
Definition & Classification of Cosmetics in South Korea
---
In South Korea, cosmetics are defined as products applied to the human body through rubbing, spraying, or similar methods. Their purposes include cleansing, beautifying, enhancing attractiveness, and improving the appearance, with the intention of maintaining or promoting the health of the skin and hair. Cosmetics are categorized into general cosmetics and functional cosmetics, based on their intended use and effects on the body.
Category
Type
Related agency
General Cosmetics
Cosmetics excluding functional cosmetics
Ministry of Food and Drug Safety (MFDS)

Korea Pharmaceutical Traders Association (KPTA)

Korea Cosmetic Association (KCA)

Function Cosmetics
Cosmetics that fall under any of the following types

1. Products that help to whiten the skin

2. Products that help improve wrinkles on the skin

3. Products that help to burn the skin finely or protect the skin from ultraviolet rays

4. Products that help change, remove, or nourish hair colour

5. Products that help prevent or improve dryness, cracking, falling out, and keratinization due to weakening of skin or hair function
Cosmetics Registration/Notification in South Korea
---
Registration/Notification Types
For the importation of both general cosmetics and functional cosmetics, the Standard Customs Advance Notice procedure is required. In the case of functional cosmetics, an evaluation or reporting procedure for their efficacy needs to be conducted with the Korea Food and Drug Administration (KFDA) based on their intended effects.
The procedure for reporting standard customs clearance for imported cosmetics is as follows.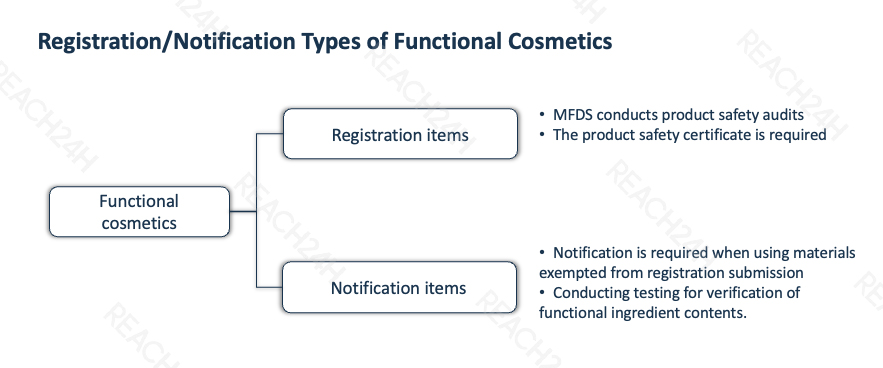 Registration/Notification Procedures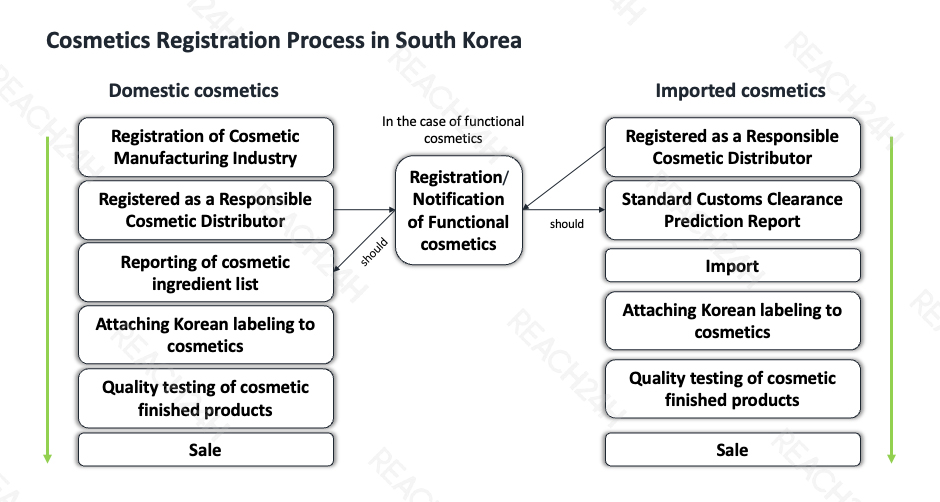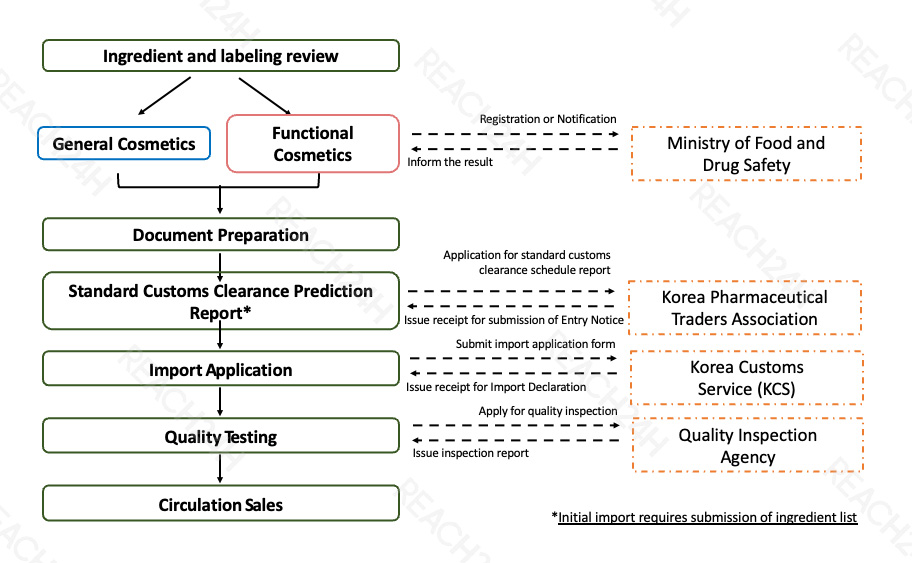 Notification/Registration Dossiers/Required Documents
---
When importing cosmetics into South Korea, the following documents should be prepared. Prior to customs clearance, a Standard Customs Advance Notice must be submitted to the Korea Pharmaceutical Traders Association (KPTA) as an electronic trade document. Only products that pass quality inspection are eligible for sale.
Furthermore, it is important to verify the registration status of the responsible cosmetics sales business before importing.
The required documents for the Standard Customs Clearance Prediction Report are as follows:
Document
Submission method
Return or not
Application for standard customs clearance schedule report
Electronic document
Not applicable
Responsible cosmetics distribution registration certificate
Post (Copy)
X
Business registration certificate
X
Functional cosmetics test or report (If applicable)
X
Certificate of Manufacture*
Post (Original)
O
Certificate of Free Sales*
O
Documents on TSE (BSE) *: Certificate of non-infection, certificate of non-use, certificate of origin
X
*Must be notarized in the country of origin and notarized original documents must be submitted.
Our Services
---
Cosmetic Information Review Service
Review of ingredients and packaging statements for cosmetic finished products
Provision of mandatory labeling requirements in Korean for cosmetic finished products
Consulting services for regulatory advice on Korean cosmetics regulations
Consulting services for the import procedures of cosmetic ingredients/finished products
Application for standardization of cosmetic ingredient names
Cosmetic Regulatory Response Consulting Service
Registration/Notification for Functional Cosmetics
Sourcing, Scheduling, and Monitoring of Efficacy Clinical Trial Institutions
Monitoring of Korean Cosmetic Regulations
Responsible Cosmetic Distributor(Excluding trade)
Agent import customs clearance
Standard Customs Clearance Prediction Report Agency
Request for cosmetic quality testing
Compliance with responsibilities of cosmetic responsible person (RP) and regular reporting
Registration/Notification of Functional cosmetics
When manufacturing overseas: MFDS, KPTA Registration/Notification administrative business agency
Other Services
Commissioned product quality inspection
Application for standardization of cosmetic ingredient names
Why Choose REACH24H
---
REACH24H's cosmetics team consists of professionals with extensive practical experience and comprehensive training in regulatory review, product registration, and evaluation of cosmetic ingredients and labelling for cosmetics importation into South Korea. Our competent experts, averaging over 10 years of industry experience, enable swift and effective market exploration in Korea.
Staying Updated with Regulations
Timely response to regulatory changes is vital when dealing with cosmetics import regulations in South Korea. Through regular monitoring and effective communication with relevant authorities, REACH24H ensures access to up-to-date information on the dynamic Korean cosmetic regulations.
Relevant Services
---