Mastering Korean Chemical Regulations: REACH24H Shines at ChemCon Europe 2023 – Part 2
---
VIENNA, 8 November 2023 – REACH24H, a leading global provider of chemical regulatory compliance solutions, showcased its expertise at ChemCon Europe 2023 conference. The event, held from October 23rd to 27th, served as a platform for industry leaders including national authorities and professionals to exchange knowledge and address the latest advancements and challenges in the dynamic chemical sector.
Here, Seongmin(Mike) Sohn ("Mike", hereafter) delivered a comprehensive overview of South Korea's chemical regulation compliance, focusing on K-REACH and K-OSHA. His expertise shed light on crucial aspects for businesses operating in the Korean market. This article provides an overview of the key highlights and updates from his presentation.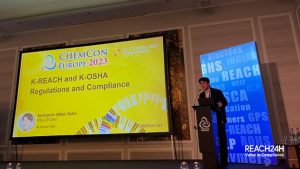 Read Part 1: China's Chemical Regulations Unveiled: REACH24H Shines at ChemCon Europe 2023
Current Registration Status of K-REACH
---
Mike began by sharing the current registration status of substances under K-REACH, categorized based on tonnage bands. As of June 2023, over 1,000 substances have been registered. However, the pre-notification status revealed a registration ratio of less than 50%. Notably, lower tonnage bands had even lower registration percentages, with only around 6% for the 100~1,000 tonnage band. Mike emphasized that these numbers indicate an expectation of numerous registration cases, particularly in 2024.
Polymer Regulation Under K-REACH
---
Mike also highlighted the unique aspect of Korea being the first and only country subject to polymer registration. Compliance with polymer regulation requires substances to meet specific criteria for relevant conditions, accompanied by practical examples. It is crucial to determine whether a substance is exempted or excluded from registration.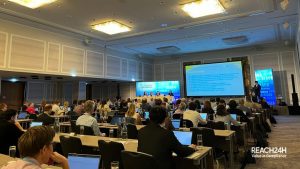 Revised K-OSHA and SDS Requirements
---
Mike discussed the comprehensive revisions made to K-OSHA on January 16th, 2021, introducing amendments and new provisions related to Safety Data Sheets (SDS). Manufacturers or importers of chemicals subject to SDS requirements must prepare an SDS, listing only the names and contents of the substances covered by the SDS. Ingredients not listed can be submitted separately through the MSDS system. A significant change is that an MSDS is legally effective only when the MSDS number is assigned through the MSDS system. Industry stakeholders must approach the new revision application with careful consideration, considering variations based on manufacturing or import dates. He stressed that he has recently noted with frequent errors for the old versions of Korea MSDS in the industry that should be dealt seriously as this could come up as a potential threat to each company.
Future Changes and Integration
---
Mike highlighted upcoming changes, such as the planned shift in the New Chemicals registration tonnage standard from 0.1 ton/year to 1 ton/year, effective from January 2025. This information was especially very meaning for the audiences since the announcement has not been published officially, yet. Other noteworthy topics discussed included the application of Q-SAR, improvements in non-phase-in chemical notification effectiveness, integration of K-REACH and K-OSHA, approval of fragrance chemicals within BPR products, and forthcoming announcements regarding microplastic regulations.
During the discussion, Mike alluded to a forthcoming significant alteration in the safety data submission criteria for the low tonnage band. However, he refrained from providing further details, explaining that it is not yet at the stage of public disclosure. Mike emphasized his role as a member of the International Regulatory Council of the Ministry of Environment in Korea, highlighting his active monitoring of regulatory developments in Korea.
Mike's comprehensive overview and exclusive forecast of Korea's chemical regulations during his presentation at ChemCon Europe 2023 provided valuable insights and updates for businesses striving for compliance in the Korean market. Understanding the current registration status, polymer regulation, revised K-OSHA requirements, and upcoming changes is vital for companies navigating the complex Korean regulatory landscape.
About REACH24H
---
REACH24H is a global consulting group specializing in chemical regulatory compliance. With a team of highly experienced professionals and a deep understanding of global chemical compliance, REACH24H provides comprehensive services to help companies navigate the complex regulatory landscape and ensure their products meet the highest standards of safety and compliance. For more information about REACH24H's comprehensive range of chemical regulatory compliance services, please visit their website here.
K-REACH | Korean MSDS Submission & CBI Application Service | Korea CCA (Chemical Control Act)