Global GHS/SDS/MSDS/Label
---
Overview
---
The Globally Harmonized System of Classification and Labelling of Chemicals (GHS) ("Purple Book") is a guidance document published in 2003 by the United Nations (UN), also referred to as the UN GHS. An updated edition of the GHS is published by the UN every two years (as of the publication of this brochure, the eighth revised edition of the GHS has been released). The 2002 United Nations World Summit on Sustainable Development (WSSD) encouraged countries to implement GHS before 2008. In order to ensure consistency with the UN GHS, individual countries have gradually enacted corresponding implementation regulations. For example, the European Union (EU) released its Classification, Labelling and Packaging (CLP) Regulation in 2008, followed by China's implementation of GHS in 2011, and the United States' modified Hazard Communication Standard (HCS) in 2012.
GHS Outline
---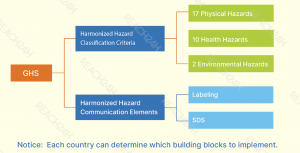 Classification
---
The hazard of a substance or mixture is the potential for that substance or mixture to cause harm. It depends on the intrinsic properties of the substance or mixture. Hazard evaluation is the process by which information about the intrinsic properties of a substance or mixture is assessed to determine their potential to cause harm. In cases where the nature and severity of an identified hazard meet the classification criteria, hazard classification is the assignment of a standardized description of this hazard of a substance or a mixture causing harm due to its physical properties or its effects on human health or the environment.
Note: Each country has its own classification standard, so the same chemical may have a different classification in different countries/areas.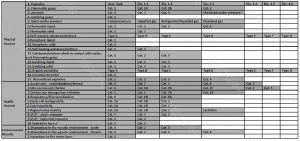 There are 29 categories of GHS hazard classification, some of which have subcategories.
Label for Chemicals
---
A label for chemicals refers to a combination of written text, pictograms, and coding to indicate all hazards and general safety precautions of a chemical product, which can be affixed, printed, or attached to the outer packaging or on the container of the chemical product. The main parts of a label include product identification, signal word, pictogram, hazard statements, precautionary statements, etc.
The following is a sample label: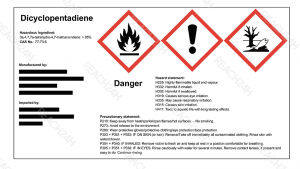 Safety Data Sheet
---
The Safety Data Sheet for Chemical Products (SDS) provides information on chemical products (substances or mixtures) in the aspects of safety, health, environmental protection, etc. and recommends protective measures and response measures in case of emergencies. In some countries, a Safety Data Sheet for Chemical Products is also referred to as a Material Safety Data Sheet (MSDS).
The SDS is a means for suppliers of chemical products to transfer basic hazardous information on chemicals (including information on the transport, handling, disposal, storage and emergency action) to their downstream recipients. The SDS can also transmit such information to public institutions, service providers and other recipients of the chemicals.
There are 16 sections in a properly prepared SDS, as shown below: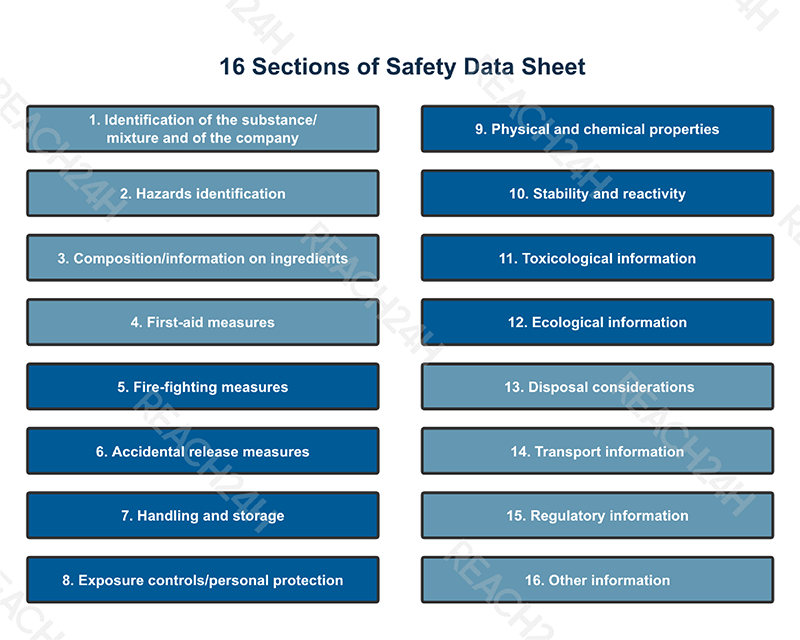 Global GHS Implementation
---
Up to now, about 67 countries and regions around the world have already implemented GHS, such as the European Union, the United States, Canada, and China.
Note: Different countries may adopt different editions of UN GHS based on their own laws and national conditions. Therefore, chemicals must be handled while complying with local regulations and requirements in different countries /areas.
Our Services
---
•  Training programs covering UN GHS/EU CLP/US GHS/China GHS/Korea GHS…(including almost all active chemical markets);
•  Update of product classifications & design of SDS, labels, and packaging in line with requirements including UN GHS/ EU CLP/ USGHS/ China GHS/Korea GHS, etc.;
•  SDS/MSDS/Labels available in Chinese, English, German, French, Italian, Korean and other languages and various formats such as html, .doc, etc.;
•  SDS/Label verification;
•  Preparation and submission of C&L notification in line with CLP Regulation;
•  Production of SDS/MSDS/labels that comply with standards in countries implementing GHS Regulations(Japan, Thailand, Malaysia, Indonesia, and ASEAN).
Contact Us
---
If you have any questions on Global GHS/SDS/MSDS/Label, please contact us.
Tel: +86 (0)571-87007555
Email: customer@reach24h.com
Reference Link
---