REACH24H Co-Hosts a Workshop with IFRA, KCII, and KFFA, Focusing on Fragrance Ingredient Safety Assessments
---
SEOUL, 20 December 2022 – On 15 December 2022, under the moderation of REACH24H KOREA CO., LTD (hereinafter referred to as "REACH KOREA"), a workshop on cosmetics safety assessment was collaboratively hosted by the International Fragrance Association (IFRA), the Korea Cosmetic Industry Institute (KCII) and KFFA (Korea Flavor & Fragrance Association), with about 200 interested pre-registrants participating online. It has been a great opportunity for all parties to learn about international trends and the latest regulatory information on the safety of fragrances, which was initiated and promoted by REACH24H KOREA and sponsored by Korea's Ministry of Environment (MoE).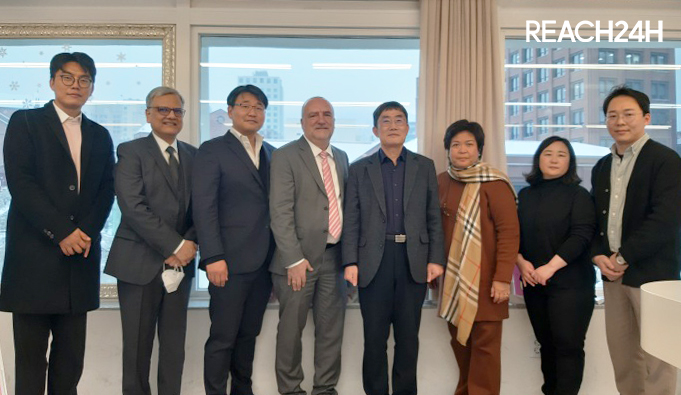 Seongmin (Mike) Sohn, General Manager of REACH24H KOREA, has been the moderator in the whole process, to promote better collaboration and communication.
A Close Watcher of Cosmetics Safety Management
---
In recent years, cosmetics safety management has emerged as an important issue in major countries around the world. The related regulations and standards in the EU have also been modified, making market access somehow difficult and confusing to many enterprises.
As a regulatory consulting group, REACH24H has been keeping a close eye on market trends and regulatory updates, hoping to provide valuable and prompt services to global enterprises in order to ensure streamlined market access. Besides, REACH24H KOREA has also sustained good relationships with both KCII and the IFRA. Realizing the enterprises' needs for compliance strategies, REACH24H KOREA is more than glad and honoured to initiate communication this time and become the moderator and promoter of all parties.
Workshop on Global Cosmetic Fragrance Safety
---
In the workshop, experts from both KCII and IFRA gave very informative speeches, especially focusing on the safety and risk assessment for ingredients.
Dr. Jungpyo Lee, Head of the Cosmetic Safety Department of KCII, shared the case study of risk assessments in the EU with the audience. And three experts of IFRA shared the specific standard-setting procedures of IFRA, and a very solid introduction to the assessment requirements, displaying professionalism and preciseness. Most important of all, IFRA has introduced the latest IFRA 51st amendment to the audience.
Topics
Speakers
Introduction to IFRA
Martina Bianchini, President of IFRA
EU Cosmetics Safety regulations and Safety Assessment for fragrance ingredients case studies
Dr. Jungpyo Lee, Head of Cosmetic Safety Department of KCII
IFRA Standard Setting Procedure
Dr. Matthias Vey, Vice President & Scientific Director of IFRA
Introduction to RIFM Safety Assessment Program
Dr. Anne Marie Api, Vice President, RIFM(Research Institute for Fragrance Materials)
Quantitative Risk Assessment (2nd Version)
Overview of IFRA 51st Amendment

Dr. Matthias Vey, Vice President & Scientific Director of IFRA
Schedule of International Workshop for Cosmetics Safety Assessment
If you have any questions regarding the IFRA 51st Amendment or the above topics, please feel free to ask via customer@reach24h.com, and we will help connect with IFRA experts and get your answer.
About IFRA
---
IFRA is a global organization that represents companies in 23 countries. With the mission of promoting the safe use of fragrance for everyone's enjoyment, they have been collaborating with regulators and stakeholders for workable regulations and guidelines.
About REACH24H
---
REACH24H has been working on developing and growing with the industry by sharing useful information and services. Besides, REACH24H is devoted to providing professional global market access consultations and customized regulatory compliance services for cosmetic companies. Our clients are from China, Europe, the USA, Japan, Korea, ASEAN and other countries and areas, also from Fortune Global 500 companies.
You might be interested in 👉Panel Discussion: Deep Dive into the Global Cosmetic Sustainability Policies and Regulations [Resource available after registration]