China's Chemical Regulations and Global GHS Updates Unveiled: REACH24H Shines at ChemCon Europe 2023 – Part 1
---
VIENNA, 8 November 2023 – REACH24H, a leading global provider of chemical regulatory compliance solutions, showcased its unrivalled expertise at the highly esteemed ChemCon Europe 2023 conference. The event, held from October 23 to October 27, served as a platform for industry leaders and professionals to exchange knowledge and address the latest advancements and challenges in the dynamic chemical sector.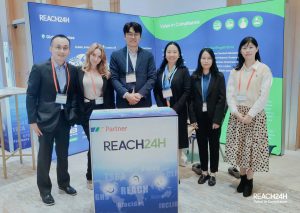 As an influential participant in the conference, one of REACH24H's China representatives, Ms. Yu Lijun, captivated the audience with a captivating presentation on China's key chemical regulations and global GHS updates. Another notable speaker was the General Manager of REACH24H Korea, Seongmin (Mike) Sohn, who addressed the audience on Korea's chemical regulation compliance, focusing on K-REACH and K-OSHA.
Read Part 2: Mastering Korean Chemical Regulations: REACH24H Shines at ChemCon Europe 2023
An Overview of China's Chemical Legislation in Focus
---
The session witnessed the gathering of over 200 attendees from esteemed European countries, Asia Pacific, and North America. Ms. Yu's engaging speech provided Western audiences with an in-depth understanding of China's intricate chemical regulatory landscape.
During her presentation, Ms. Yu covered a wide range of topics, including new chemical substance registration, hazardous chemical transportation, and dangerous goods handling. Her presentation embraced the visionary "One Enterprise, One Chemical Product, One QR Code" system, illuminating the specific licenses and permits required for businesses operating within China. Attendees were enthralled as they gained valuable insights into the latest regulatory updates and the rationale behind these transformative changes.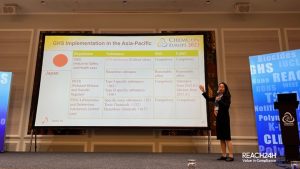 Global GHS Updates and Comparisons
---
Ms. Yu also shared her expertise on the implementation of the Globally Harmonized System (GHS) in the Asia Pacific region. Focusing on the Chinese Mainland, China's Taiwan, Japan, and Korea, she provided attendees with an overview of GHS regulations and addressed the challenges posed by varying SDS and GHS labelling requirements across countries.
The presentation sparked engaging discussions during the Q&A session, where attendees sought further clarification on topics such as the national rollout of the "One Enterprise, One Product, One QR Code" system in China and the comparison of GHS/SDS/Label requirements among Asian countries. REACH24H's technical team remains available to offer continued support and information to interested parties.
EU's Battery Passport: Empowering Sustainable Battery Management with the Digital Product Passport (DPP)
---
In March 2022, the European Union implemented a groundbreaking labelling management guideline known as the "Digital Product Passport" (DPP). This innovative initiative aims to accelerate the realization of the EU Green Deal, fostering the transition towards a circular economy, reducing the strain on natural resources, and promoting sustainable consumption.

During the last day of ChemCon 2023, Lioba Oerter from 3E provided valuable insights into the development of this policy. With battery compliance emerging as a prominent industry concern, REACH24H actively engaged in extensive discussions with the speaker. Notably, it was revealed that the DPP mandates a Battery Passport for new energy vehicle batteries within Europe. Essentially, this entails providing comprehensive information, including battery manufacturer details, battery model, materials (including renewable components), the total carbon footprint of the battery, carbon footprints at different stages of the battery's lifecycle, third-party certification reports, and accessible links displaying the carbon footprint.
Looking ahead, we are committed to fostering effective communication and information exchange with international experts on battery compliance matters in global markets. We are dedicated to fostering sustainable growth and innovation for enterprises worldwide.
REACH24H's participation at ChemCon Europe 2023 solidified its position as a competent and professional service provider in chemical regulatory compliance services. The company's commitment to delivering in-depth knowledge and practical solutions for navigating complex regulatory frameworks was highly appreciated by industry professionals.
About REACH24H
---
REACH24H is a global consulting group specializing in chemical regulatory compliance. With a team of highly experienced professionals and a deep understanding of global chemical compliance, REACH24H provides comprehensive services to help companies navigate the complex regulatory landscape and ensure their products meet the highest standards of safety and compliance. For more information about REACH24H's comprehensive range of chemical regulatory compliance services, please visit their website here.
China New Chemical Substance Registration(MEE Order No. 12) | Regular Registration | Simplified Registration | Record Registration