Record Registration | China New Chemical Substance Registration (China REACH)
---
Overview
---
The Measures for the Environmental Management Registration of New Chemical Substances (Order No. 12 of the Ministry of Ecology and Environment of the P. R. China, MEE Order No. 12) was released in April 2020 and came into effect from January 1, 2021. It has replaced the Measures on the Environmental Management of New Chemical Substance (MEP Order No.7) and become a brand-new management standard for new chemical substances in China.
MEE Order No. 12 shall apply if companies plan to manufacture or import chemicals not listed in the Inventory of Existing Chemical Substances in China (IECSC). Registration dossiers should be submitted to the Solid Waste and Chemicals Management Center of MEE (SCC-MEE) and apply for approval. A certificate should be granted before any new chemical substance enters the China market, otherwise, relevant companies will be subject to severe penalties.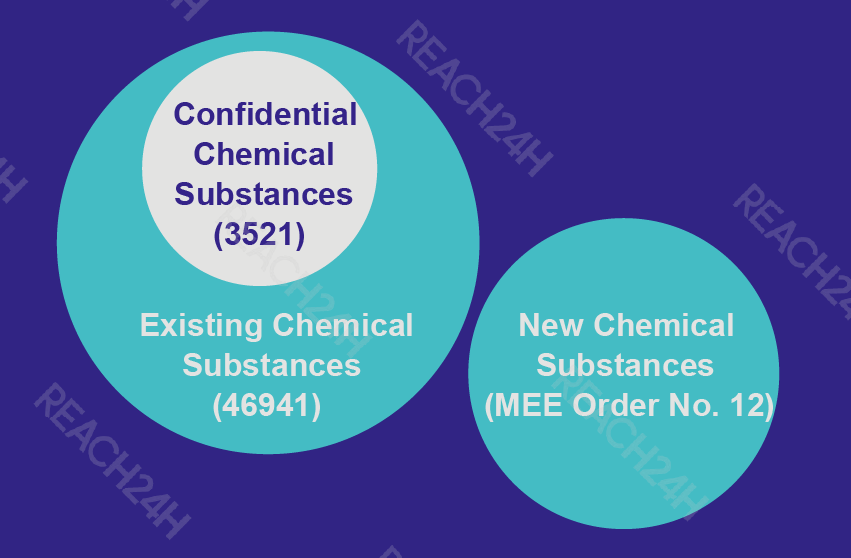 IECSC was last updated on June 2, 2023.
China New Chemical Substance Registration (China REACH) includes regular registration, simplified registration, record registration, and new usage management registration.
Record Registration
---
Applicable Conditions
---
Record Registration of General Substances: New chemical substances manufactured or imported with an annual volume of less than 1 ton;
Record Registration of Polymers: (no upper volume limit) Polymers containing less than 2% (w/w) monomers or reactants which are new chemical substances; Or polymers of low concern (PLC).
Registration Bodies
---
Manufacturers/direct importers of new chemical substances in China
Overseas companies planning to import new chemical substances to China (designate a representative agent when applying for the registration)
Required Materials
---
| | | |
| --- | --- | --- |
| Required Materials Items | Record Registration of General Substances | Record Registration of Polymers |
| Application Form | √ | √ |
| Legal Person Certificate or Business License | √ | √ |
| Agent contract or agreement (for Overseas Applicant) | √ | √ |
| Power of Attorney (if necessary) | √ | √ |
| Polymer Information (monomer/reactant information, molecular weight distribution map (such as GPC Report), polymerization mechanism process, etc.) | – | √ |
| Exclusion materials for record registration of polymers | – | √ |
| Other information already obtained by the applicant on the environmental and health hazard properties and environmental risks of the substance | √ | √ |
Note: If the polymer is less than 1 ton/year, the materials required for general substance filing can be submitted.
Data Requirements
---
Record registration of general substances: no data requirements.
Record registration of polymers: it is recommended to prepare the data of polymer stability (including oxidation, hydrolysis, heat, light, solvent or microorganism) and water absorption (when Mn is greater than 10000 Da).
Process of Record Registration
---

Registration Period
---
The registration period of record registration is 3~10 workdays.
Post-Registration Obligations
---
Information Transmission
Data Retention
New Hazard Information and Environmental Risk Tracking
Accept Environmental Supervision and Spot Checks
Related Information
---
Our Services
---
Representative Agent Service
IECSC Comprehensive Search
New Chemical Substance Record Registration
Identification of Polymer
Polymer-related Testing (such as Stability and Water Absorption) Scheme and Supervision Services
Communication with Competent Authorities/Experts
Translation for Literature and Registration Documents
Post-Registration Obligations Assistance
Why Choose REACH24H
---
Internationalized service: Our customer service team consists of personnel capable in English, Chinese, Japanese, Korean and German to efficiently serve multi-national customers.
Rich experience: Above 10-year practical experience in the field of China's new chemical management regulation.
Outstanding performance: As of December 2021, REACH24H has successfully submitted more than 3,000 applications under MEP Order No. 7, including dozens of high-tonnage difficult substances, and the pass rate is 100%.
Strong technical strength: We have a team of above 30 senior technical personnel with academic and professional backgrounds in toxicology, analytical chemistry, chemical engineering, biology, pharmacology, environment, etc.