US EPA Disinfectant Registration
---
Overview
---
Disinfectants are known as Antimicrobial pesticides in the United States and are regulated by the Environmental Protection Agency (EPA), which is also often referred to as US EPA regulations.
One of the most important regulations is FIFRA, or the Federal Insecticide, Fungicide, and Rodenticide Act. This regulation is the legal basis for the regulation of pesticides in the United States. FIFRA is the Federal statute that governs the registration, distribution, sale, and use of pesticides in the United States. Generally, before a pesticide may be sold or distributed in the United States, it must be registered (licensed) with EPA.
In addition to FIFRA, there are two other supporting laws:
Pesticide Registration Improvement Act, or PRIA. There are more than 200 pesticide registration action codes in the United States. As a supplement to FIFRA, PRIA gives detailed clarification for different registration action codes, their applicable scope, review decision time, and EPA administration fee.
Code of Federal Regulations (or CFR). There are 50 Titles in total, covering all federal regulations. The contents related to pesticide registrations are in Title 40. It covers the relevant registration procedures, data requirements, data protection, etc., serving as the implementation regulation to FIFRA.
Registration Scope
---
FIFRA's regulatory scope includes conventional pesticides, biopesticides and antimicrobial pesticides (i.e. disinfectants), including active ingredients, formulations and corresponding pesticide inert ingredients (solvents, stabilizers, safety agents, etc.).
According to FIFRA, antimicrobial pesticides, or disinfectants, are primarily used to disinfect, sterilize, reduce or slow the growth and reproduction of microorganisms (e.g. details, viruses, fungi, algae, etc.) in order to protect specific objects, industrial processes or systems, surfaces, or chemicals from contamination or deterioration caused by microorganisms. Products include common chemical disinfectants, disinfection devices and disinfectant treated articles. Chemical disinfectants now have around 275 different active substances, more than 4000 registered products. Product formulation types including liquid, powder, etc. According to the specific claims made on each product's labeling, they can be furthermore categorized as either "non-public health products" (such as algaecides, slimicides, preservatives ) or "public health products" (such as products bear a claim to control pest microorganisms that pose a threat to human health ).
Exemptions Situation
---
Disinfection devices and treated articles can be exempted from US EPA disinfectant registration upon meeting certain obligations and conditions.
Compliance Obligation
---
Chemical Disinfectant

Company and establishment registration
Annual report
Federal pesticide registration

Disinfection Device

Company and establishment registration
Annual report
Label compliance
Child-Resistant Packing (CRP) Certification
State pesticide registration

Treated Articles

Label compliance
Registered disinfectant
Who Can Register?
---
Pesticide registration is not only an obligation of pesticide manufacturers, traders, distributors, and pesticide users can also apply for EPA pesticide registration if necessary.
Besides, foreign companies must designate a U.S. agent to receive correspondence and represent them in matters concerning their application.
Registration Process
---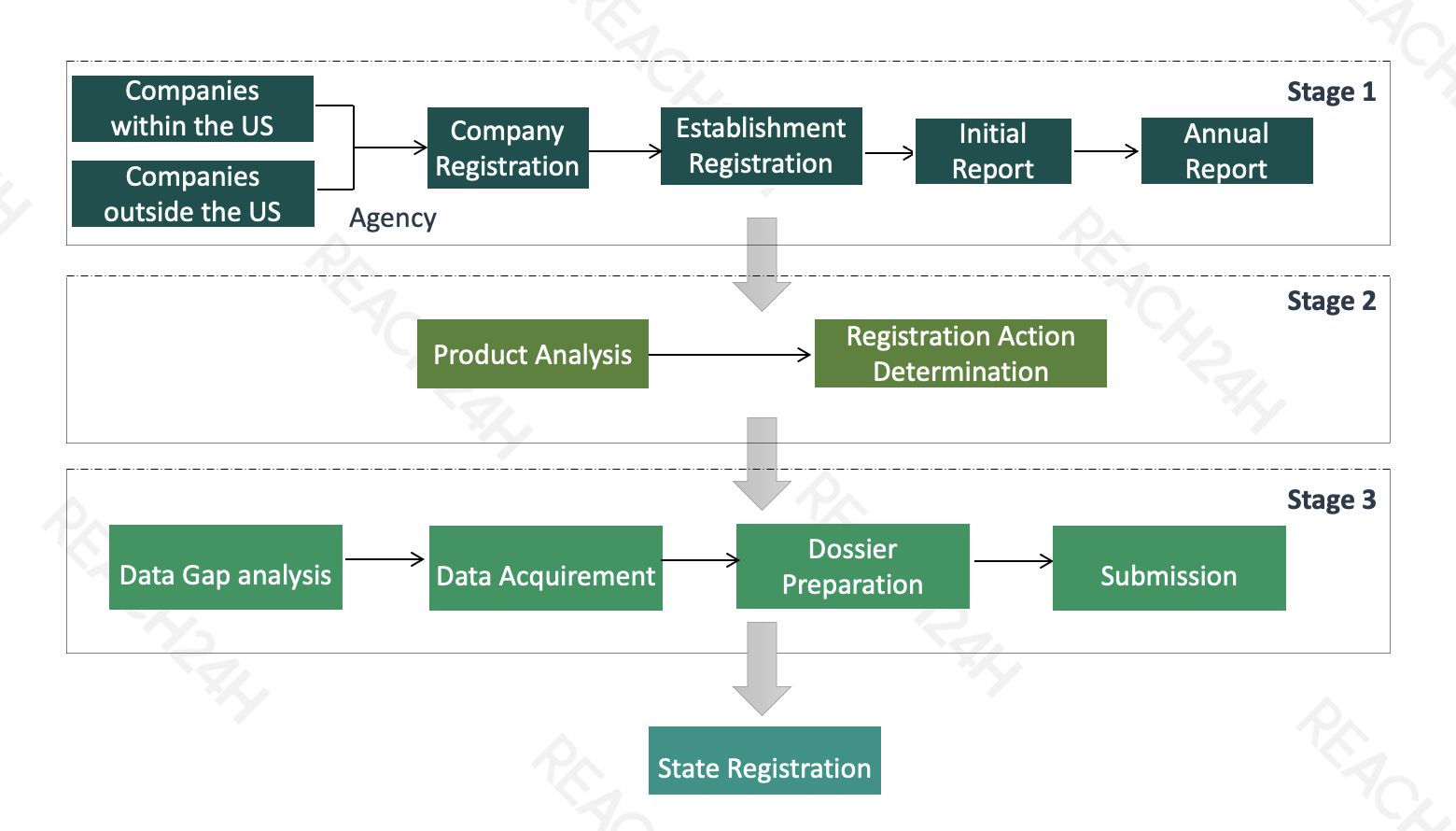 US EPA pesticide registration process
Registration Type
---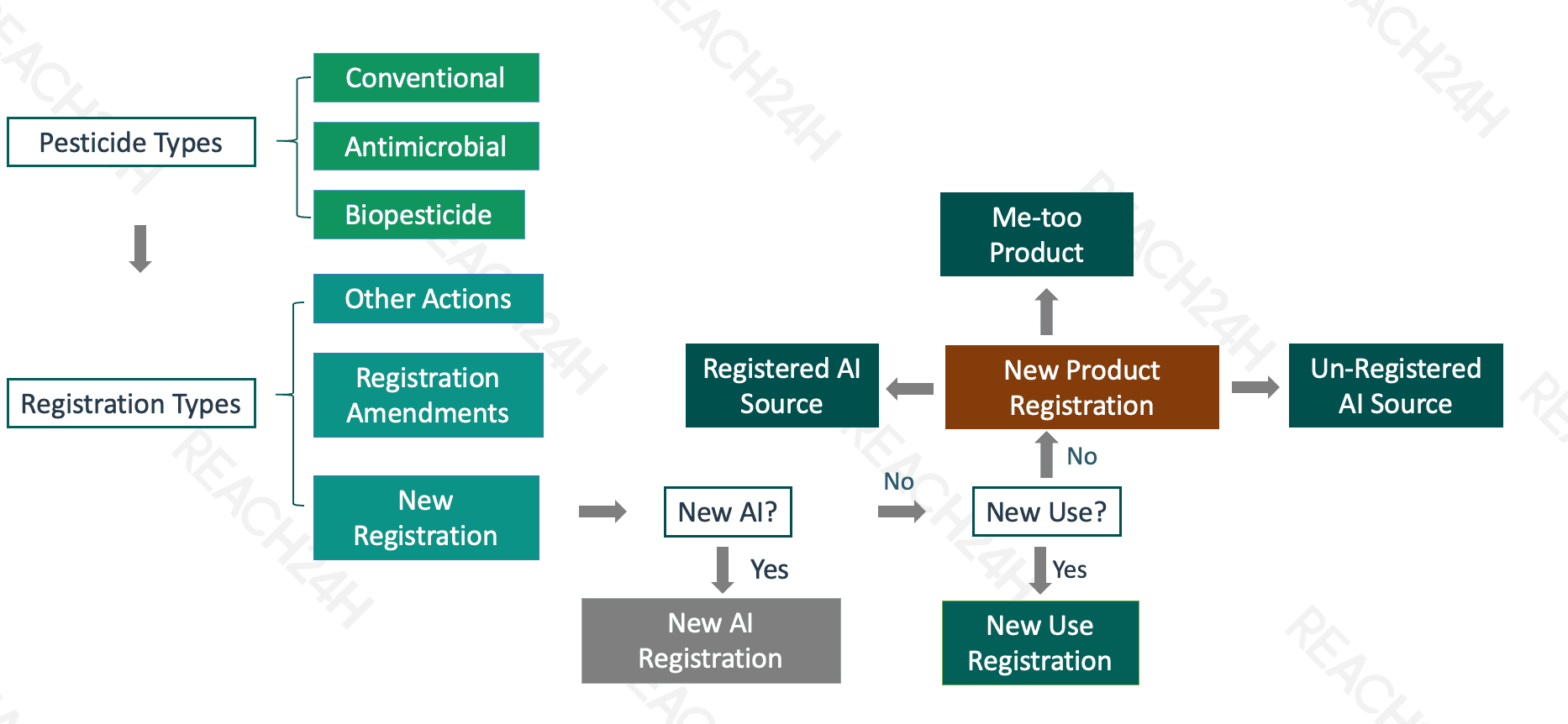 US EPA antimicrobial pesticide registration type decision
For EPA pesticide registration, the simplest type of registration is me-too Product registration, which is determined on the following basis:
Content
Identical Product
Similar Product
Active Ingredients
identical
identical
AI content
identical
Substantially Similar
Form
identical
identical
Inert Ingredients
identical
Substantially Similar
Use
identical
Identical or less
Risk
identical
Substantially Similar
Label
Administrative

changes

Substantially Similar
Currently, there are four identical/substantially similar product registration types under antimicrobial pesticides, as follows:
| | | |
| --- | --- | --- |
| PRIA Code | Review Period (month) | Review fee for 2021($) |
| A530 | 4 | 1,342 |
| A531 | 4 | 1,916 |
| A532 | 5 | 5,363 |
| A560 | 6 | 13,226 |
The Me-too product registration is a short and cost-effective type of registration compared to other registration types, which can cost hundreds of thousands of dollars and take up to two years to review. In addition, new product registration, other than new use, or new active ingredient, is also a cost-effective type of registration.
Review Procedures
---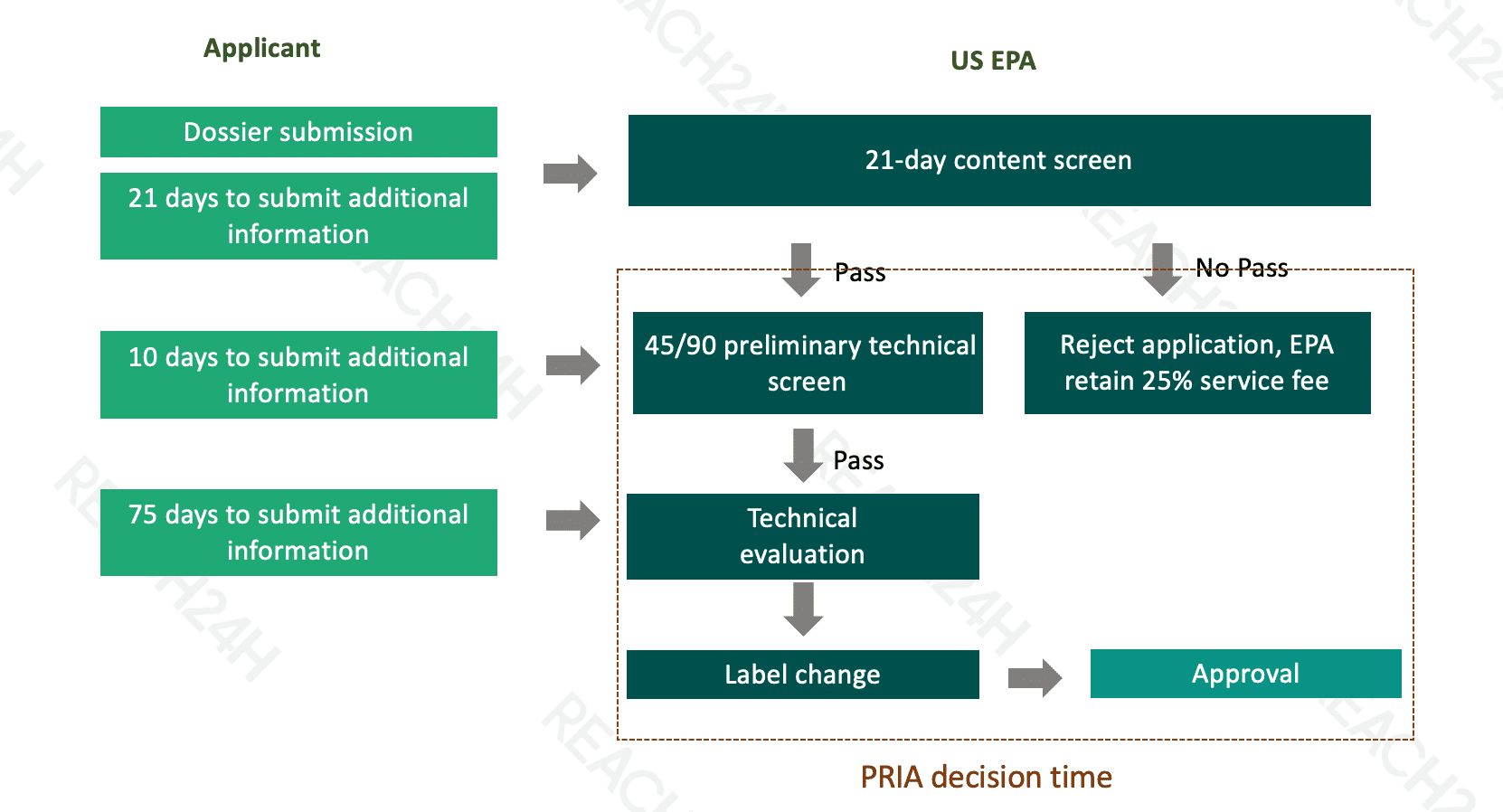 Fee Waivers
---
An applicant that qualifies as a small business is eligible for a partial waiver of 50% or, in some cases, 75% of the registration service fee. The fee waivers apply to both domestic and foreign registrants. A small business means a corporation, partnership, or unincorporated business that fulfill the requirements below:
| | | |
| --- | --- | --- |
| If your number of employees is | If your average annual revenue from pesticides is not greater than | You are eligible for a waiver of |
| ≤500 | $60 million | 50% |
| ≤500 | $10 million | 75% |
Our Services
---
Company and Establishment Number Registration
Submit an Initial Report and Annual Report
Federal Disinfectant Registration
State Registration
Compliance Analysis of Disinfectant Registration
Inert Registration
Annual Service of US Agent
Data Compensation Strategy and Data Holder Negotiation
Data Assessment/Gap Analysis/Exemption Analysis
Comprehensive Regulatory Consulting and Training Services
Why Choose Us?
---
Profound experience: years of professional tracking of the US EPA management regulations, REACH24H is the US EPA official recognized recommendation compliance agency and recommended by Amazon E-Commerce Compliance Total Solution
Outstanding performance: By November 2021, REACH24H has successfully helped hundreds of domestic and foreign enterprises to submit US EPA applications, completed more than 150 projects, and occupied more than 80% of the domestic market.
Strong technical strength: with analytical chemistry, chemical engineering, biology, pharmacology, environment, and other professional backgrounds of senior technical personnel composed of a strong team; It has a number of internationally certified toxicologists and risk assessment experts.
International service level: with English, Chinese, Korean, Japanese, Spanish, German and other language abilities of customer service staff, efficient service to international customers.
Rich accumulation: in many years engaged in pesticide and disinfectant regulatory response and technical advisory services have accumulated rich experience.
Superior resources: to cooperate with many excellent laboratories at home and abroad, to design professional and efficient test programs for enterprises, to provide quality services.
Good relationship channels: establish long-term friendly communication channels with EPA, FDA officials, associations and experts to significantly improve service quality and efficiency.