REACH24H Consulting Group Shines at PSX 2023, Presenting Key Chemical Regulatory Topics
---
BOSTON, October 25, 2023 – REACH24H Consulting Group, a renowned provider of chemical regulatory compliance services, left a remarkable impression at PSX 2023, the prestigious conference held by the Product Stewardship Society from October 17-19. As a silver sponsor, REACH24H actively engaged in various sessions, demonstrating its expertise in Asian Pacific chemical registration and regulatory management. Their active involvement highlighted their industry-leading knowledge and commitment to delivering exceptional compliance solutions.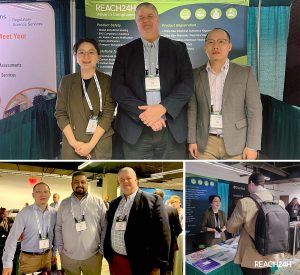 During the Education Sessions of PSX 2023, REACH24H's esteemed speakers, General Manager of REACH24H USA Inc., Robert Kiefer and Senior Regulatory Expert, Lyla Zhao, delivered a compelling presentation titled "Recent Updates in Chemical Regulatory Management in Four Asian Countries and Regions."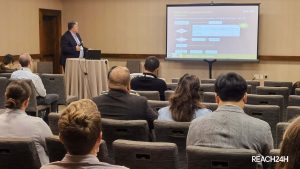 Robert Kiefer Speaking at PSX 2023
The session provided attendees with valuable insights into the latest developments, highlights, and trends in chemical regulations in China, China's Taiwan, South Korea, and Japan. The topics covered included China's Measures for the Environmental Management of New Chemical Substances (MEE Order No. 12, China-REACH), Taiwan Region's Toxic and Concerned Chemical Substance Control Act (TCCSCA), South Korea's K-REACH, K-BPR, and K-OSHA, as well as Japan's Chemical Substances Control Law (CSCL).
During the Q&A session at PSX 2023, attendees actively engaged with REACH24H's speakers, seeking expert advice on various topics. One question raised was regarding the availability of public data for Phase 2 registration of the Taiwan Region's PEC (Priority Existing Chemical) chemicals. In response, the speaker explained that public data refers to information officially announced on platforms such as the ECHA website, NITE Japan database, and US EPA. However, considering data risk issues, REACH24H suggested accessing data authorized by the data owner and utilizing it for the registration process.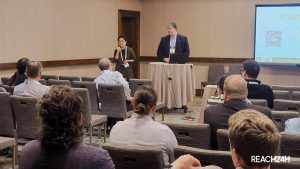 Lyla Zhao Speaking at PSX 2023
Another question focused on the acceptance of QSAR/READ-ACROSS reports for China REACH registration. The speaker shared that the Chinese authorities have exhibited a more positive attitude compared to the previous regulations. Particularly for long-term testing data, such as two-generation testing and carcinogenicity testing, if the existing data is sufficient for assessment and well-prepared, there is a possibility of acceptance by the Chinese regulatory authority.
REACH24H's knowledgeable responses provided valuable guidance and clarity to the attendees, shedding light on these concerns regarding chemical compliance. Through active participation and insightful contributions, REACH24H demonstrated their exceptional expertise and competence in compliance consulting. Their dedicated focus on staying updated with chemical regulatory developments worldwide positions them as a trustworthy and professional cross-region service provider for global enterprises.
For more information about REACH24H's comprehensive range of chemical regulatory services, please visit https://www.reach24h.com/en/industrial-chemicals.
Reference Links
---