REACH24H Korea Invited to Speak Again at KITECH's Global Chemical Regulation Compliance Conference
---
SEOUL, 20 June 2023 – On 22 June 2023, the Korea Institute of Industrial Technology (KITECH), in collaboration with the South Korean Ministry of Trade, Industry, and Energy, will be holding a conference on the response to provide up-to-date information and guidance on global chemical substance regulation trends. REACH24H Korea's General Manager Seongmin (Mike) Sohn will deliver a speech on EU REACH updates and amendments.
The event will be executed at the Seoul COEX Conference Room (Room 318) expecting approximately 150 participants. It aims to equip companies with the latest information and directions to proactively respond to these regulations, ensuring a smooth market access process for enterprises.
In light of the ongoing global developments and strengthening of chemical substance regulations, it has become crucial for our industries to stay informed and adapt their strategies accordingly. Notably, the seminar will address the inclusion of PFAS in the EU REACH regulation, as well as the expanded restrictions on PFAS usage in firefighting products, food packaging, cosmetics, and other areas in the United States.
Topics to Be Addressed
---
Opening remarks, by the Ministry of Trade, Industry, and Energy
Latest updates on EU REACH amendments, focusing on newly added substances like SVHC and PFAS issues, by REACH24H Korea's General Manager Seongmin (Mike) Sohn
Recent trends in US chemical substance regulations, including the addition of restricted substances and revised exemption clauses, by Deputy Manager Hong Seung-yong from Coway
PFAS regulations by state, by Department Head Jeon Hyeong-seok from UL Korea
Precautions for late registration in EU REACH, providing insights into registration procedures and cost discounts for small and medium-sized enterprises, by CEO Eun-kyung Song from ChemiPartner
Considerations for product chemical regulation compliance, including REACH product registration and RoHS compliance measures, by Head of Division Lee Jeong-hyun from the KOTITI Testing & Research Institute
Overview of the International Material Data System (IMDS) and strategies for chemical substance regulation compliance in the automotive industry, by Team Lead Hyeon-gyeong Ban from MDSKorea.
The seminar will feature a Q&A session, offering participants the opportunity to engage with the speakers and clarify any doubts they may have.
REACH24H Korea has been collaborating with KITECH on chemical regulation compliance consulting programs for Korean companies for several years. In 2022, they invited Byungseob (Daniel) Lee, Senior Researcher at REACH24H KOREA, as a speaker to address the topic "Overseas Chemical Management Regulation Updates: Vietnam and India."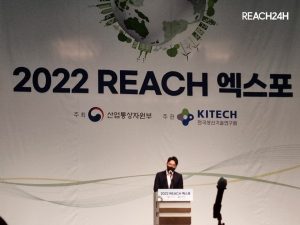 Byungseob (Daniel) Lee, Speaks at KITECH's Global Environmental Regulatory Expo in 2022
About REACH24H
---
REACH24H has been offering comprehensive chemical compliance services to global enterprises since 2009. To date, we have served over 8,000 chemical enterprises and have gained valuable insights into overcoming market access challenges. Our team of experts has extensive experience addressing regulatory issues in various countries and regions. Visit our services: https://www.reach24h.com/en/industrial-chemicals
About KITECH
---
KITECH, founded in 1989, is a leading force in Korea's industrial growth. Its focus on developing and applying production technologies, supporting SMEs, and conducting demand-oriented research has made it a trailblazer in manufacturing innovation.
Reference Links
---