REACH24H Joins COSMOPROF ASIA to Offer Insights on Asia-Pacific Market Opportunities
---
SEOUL, May 25, 2023 – Informa Markets Korea Corporation is organizing a seminar in Seoul on May 26, 2023, to explore market opportunities in the Asia Pacific region through Cosmoprof Asia. The seminar will feature several distinguished speakers, including Sekyoo Oh, Managing Director of Informa Markets Korea Corporation, Angel Fu, Event Director of Informa Markets, and guest speaker Seongmin (Mike) Sohn, General Manager of REACH24H Korea.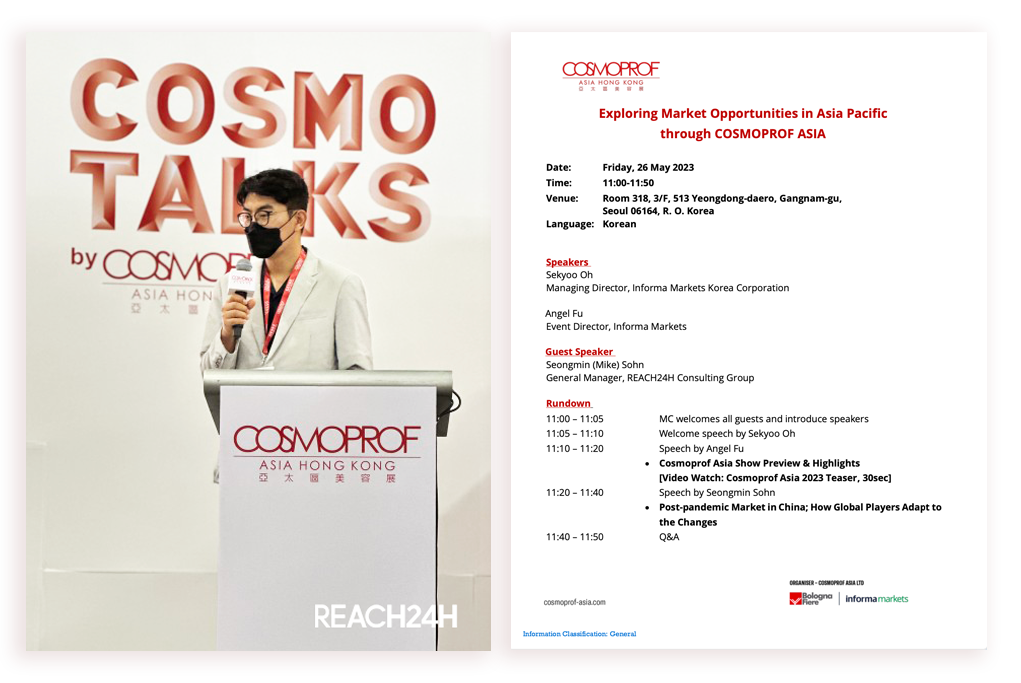 See the seminar rundown here. *The event will be conducted in Korean.
The seminar aims to promote Cosmoprof Asia 2023 to beauty professionals in Korea, one of the top three visiting countries, and attract potential visitors to the Cosmoprof Asia 2023 in Hong Kong, China this November.
Seongmin(Mike) Sohn, General Manager of REACH24H Korea, will lead a guest speaker session on the topic "Post-Pandemic Market in China: How Global Players Adapt to the Changes," offering insights and strategies for businesses to succeed in the post-pandemic Chinese market.
During the seminar, the attendees will receive updates on Cosmoprof Asia 2023, including size and sales figures, international pavilions, special events, and a list of key exhibitors at each venue.
Moreover, the seminar will also highlight a range of business opportunities in the Asia-Pacific region and foster cross-regional connections and collaborations. Attendees will have the chance to network with industry professionals, exchange ideas, and discuss potential collaborations in the beauty sector across the Asia-Pacific region.
As the beauty industry continues to grow in the Asia-Pacific region, this seminar provides a valuable opportunity for companies to gain insights into the market and explore potential business opportunities. Interested parties are encouraged to attend the seminar and learn more about the industry and Cosmoprof Asia 2023 (https://www.cosmoprof-asia.com/).
REACH24H Contributes Regulatory Expertise at Seminar
---
REACH24H is excited to participate in the seminar and provide valuable insights into the post-pandemic market in China. Seongmin(Mike) Sohn stated, "The post-pandemic has made a huge conversion in the Asian beauty market, and it is time to take a wider and diverse opportunity, including not only the Chinese market but also the ASEAN region."
REACH24H's participation in the seminar highlights the company's expertise in regulatory compliance and sustainability in the beauty industry. The event promises to be an informative and engaging opportunity for companies interested in the beauty industry in the Asia-Pacific region.
Relevant Links
---