REACH24H Shares Insights into China's Full-Scale Data Registration Era with Cosmoprof Asia 2022
---
SINGAPORE, 23 November 2022 – On 18 November, REACH24H attended another international cosmetic fair this month, COSMOPROF ASIA 2022, after the in-cosmetics Asia 2022 concluded not long ago. Seongmin (Mike) Sohn, General Manager of REACH24H Korea Co., Ltd. again shared his insights into China's full-scale data registration era in the cosmetic industry with more global companies.
Cosmoprof Asia 2022 this year took place from 16 to 18 November in Singapore and gathered over 1,000 exhibitors from 40 countries and regions, to showcase Asia Pacific's newest brands and unveil recent innovations.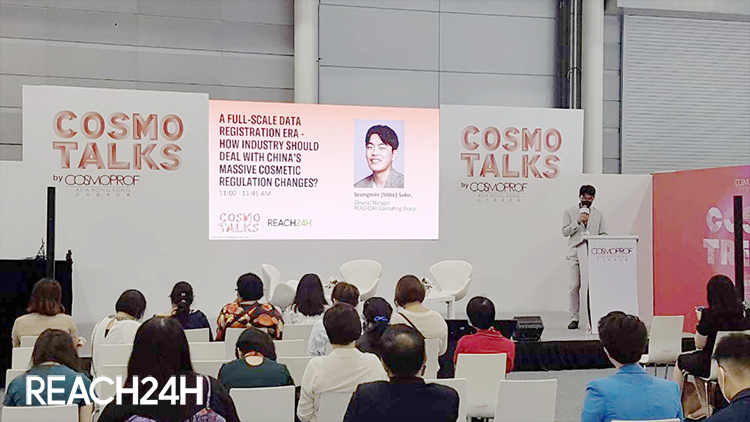 In the past, REACH24H used to be just a participant at Cosmoprof Asia. With its experience accumulating and influences expanding, REACH24H this year also presented as guest speaker. The KOL and regulatory expert of the industry, Seongmin (Mike) Sohn, also General Manager of REACH24H Korea Co., Ltd., presented at the Market Watch and Regulation Session of CosmoTalks on 18 November, with the topic related to China's cosmetic regulation changes, guiding the industry in dealing with China's massive cosmetic regulation changes smoothly.
A Full-Scale Data Registration Era – China's Massive Cosmetic Regulation Changes
---
China has finalized the long-awaited overarching regulation – Cosmetic Supervision and Administration Regulation (CSAR), formally replacing the very outdated 30-year-old regulation Cosmetics Hygiene Supervision Regulations (CHSR). Understanding the main guidelines of CSAR and what brought about these changes, as well as this new regulation's immediate impact has never been more vital for those targeting the China beauty market.
From ingredient safety information to efficacy claim data of finished products with new administrative platforms, Mike has witnessed this vibrant and changing era. In his speech, he mainly focused on the overview and particular issues that the industry should face regarding cosmetic ingredients and the CSAR updates that have a great impact. Starting with his experience, he explained detailed regulatory requirements and guided what actions industries should take in response.
These years, REACH24H is expanding its global reach and influence by participating in international conferences and fairs, hoping to bring APAC cosmetic regulatory updates and compliance strategies to global enterprises. If you have further questions regarding cosmetic regulatory compliance in China, please feel free to contact us via customer@reach24h.com.
---
Soon on 16 December, Mike will present another speech at the 14th Chemical Regulatory Annual Conference (CRAC 2022) with the topic "Global Cosmetic Sustainability Policies and Regulations", which is free to all participants around the world. If you are interested, please check out more information here.