REACH24H Marks a Resounding Success at Osong Korea 2023 Cosmetics & Beauty Expo
---
CHEONGJU, November 2, 2023 – REACH24H Consulting Group, a leading global provider of regulatory and technical services for the cosmetics industry, is pleased to announce the successful conclusion of the highly esteemed 5-day Osong Korea 2023 Cosmetics & Beauty Expo held in Cheongju, South Korea.
During this premier event, REACH24H's distinguished representatives, Mr. Tiangu Yuan, General Manager of REACH24H Japan, and Ms. Lorraine Li, Senior Analyst at ChemLinked, the flagship media outlet of REACH24H, were honoured to be invited as guest speakers at the 9th International Biocosmetics Conference.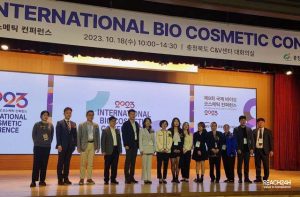 Their insightful speeches captivated an audience of global cosmetics experts, industry representatives, research institutions, and academic experts. Mr. Yuan and Ms. Li provided comprehensive analyses and interpretations of market share and development trends in the cosmetics industries of both China and Japan. Moreover, they shed light on the evolving consumption patterns of the emerging MZ generation within the cosmetics and beauty sector.

Japanese Cosmetics Market: Performance and Opportunities for Korean Beauty
---
With a long-standing dominance of domestic brands and offline sales channels, the Japanese cosmetics market has traditionally been characterized by a saturated and conservative environment. However, as domestic competition intensifies, an increasing number of Japanese cosmetics companies are actively seeking opportunities in overseas markets.
Simultaneously, Korean beauty has witnessed remarkable growth, surpassing France in 2021 to become the largest overseas exporter impacting the Japanese beauty industry. Against this backdrop, Mr. Tiangu Yuan shared invaluable insights into the current development status of Korean cosmetics brands in Japan, the influence of Korean cultural exports on brand penetration, and the latest beauty trends in Japan.
Emphasizing the importance of adopting a "differentiation" business model, Mr. Yuan highlighted how cosmetics companies can draw inspiration from Korean beauty brands. In the highly saturated Japanese cosmetics market, mid-to-low-end beauty brands can successfully penetrate the local market by leveraging retail channels such as drugstores and convenience stores, effectively influencing consumer perceptions.
Chinese Cosmetics Market: Import Analysis and Market Trends
---
Recent data reveals that China's cosmetics retail sales surpassed 200 billion yuan for the first time in the first half of 2023. While the post-pandemic era has witnessed a slow recovery, the Chinese cosmetics consumer market remains stable overall.
Ms. Lorraine Li, Senior Analyst at ChemLinked, delivered a comprehensive analysis of the Chinese cosmetics market, encompassing retail trends over the past five years, insights into imported cosmetics, competitive dynamics, and emerging market trends. She specifically highlighted the market performance of Chinese cosmetics in the post-pandemic era.
Ms. Li emphasized the increasing consumer focus on specific ingredients and the efficacy of cosmetics in the post-pandemic era. Consequently, the market share of specialized and functional cosmetics catering to specific consumer needs is experiencing significant growth. Conversely, international brands lacking differentiated product positioning and localized marketing strategies are gradually losing ground in the Chinese market.
At REACH24H, we take pride in our extensive experience in global cosmetics compliance and our team of dedicated technical and regulatory experts. Our commitment lies in providing top-notch technical services for global market access in the cosmetics industry, enabling companies to seize market opportunities while promoting environmental, social, and economic sustainability within the industry.
We are honoured to have participated in the Korea Osong Cosmetics and Beauty Industry Expo, Moving forward, we remain unwavering in our dedication to strengthening international exchanges through the sharing of professional knowledge and practical case studies.
Reference Links
---