REACH24H Shares Insights on Global Cosmetic Market Trends at 2023 CosMediCare Workshop
---
JEJU, April 26, 2023 – REACH24H was invited to provide valuable insights into the cosmetics industry at the 2023 Senior CosMediCare Empirical Center Workshop on April 24, 2023. The workshop was organized by Jeonnam University Medical Center, Gwangju Techno Park, Gwangju Institute of Science and Technology (GIST), and Gwangju Cosmetic Industry Promotion Association.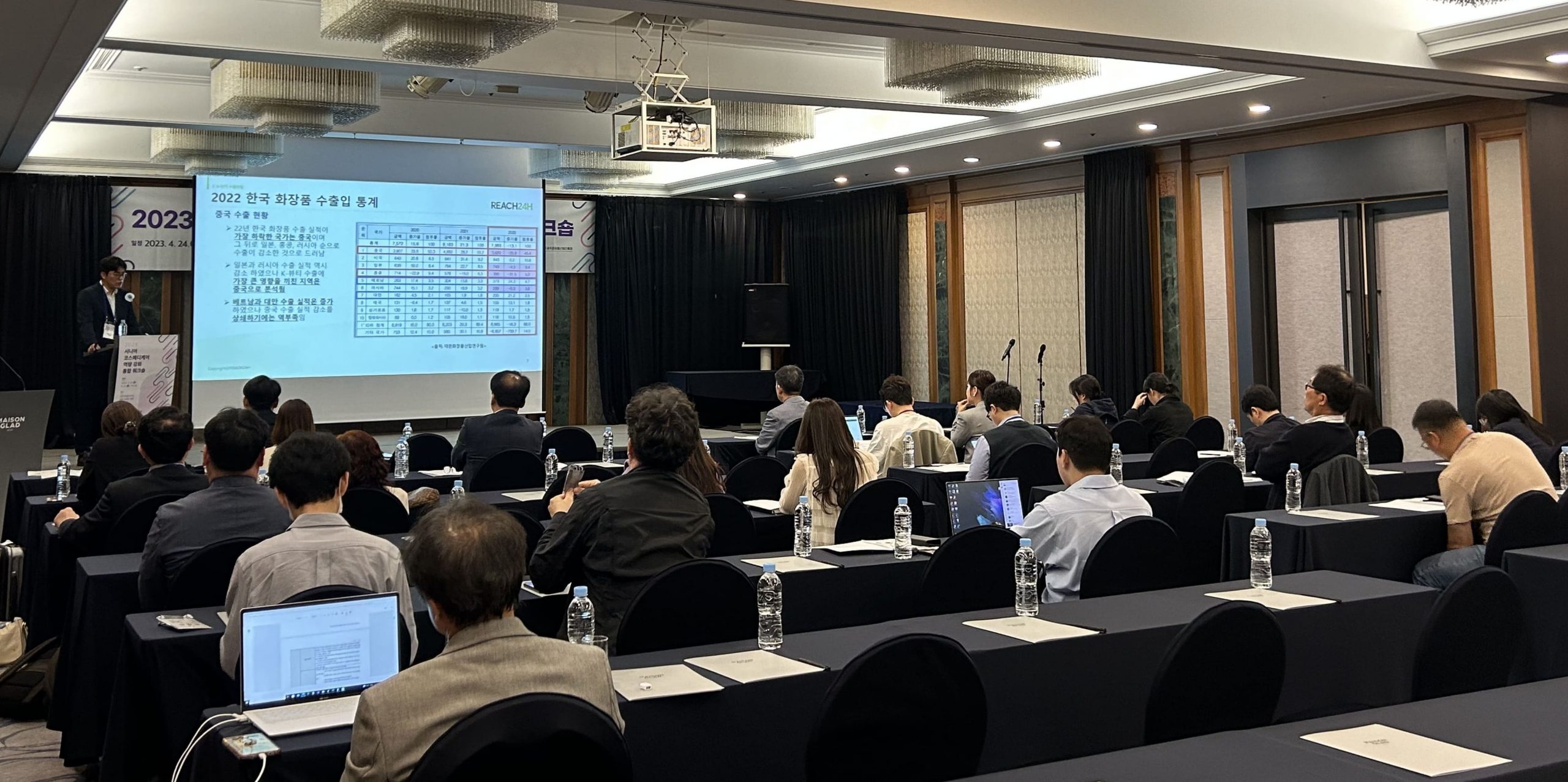 Key Changes and Trends Companies Need to Watch Out for
---
Seongmin (Mike) Sohn, General Manager of REACH24H Korea, delivered a keynote speech, analyzing the global cosmetic market trend and K-Beauty export status. He highlighted the challenges facing the cosmetics industry, including the decline in Korean cosmetics exports last year, which was statistically confirmed until March.
The decline in Korean cosmetics exports can be attributed to several factors. One of them is the rise of mid- to low-priced cosmetics products in China, which has intensified competition with Korean cosmetics. Another factor is the trend towards patriotic consumerism in China, where younger generations are increasingly consuming domestic products. Korean cosmetics consumers' behavior has also shifted towards trying out new brands, leading to changes in consumer preferences and purchasing behavior.
Furthermore, the strengthening of cosmetics regulations has made it more difficult for Korean cosmetics companies to comply with regulatory changes, leading to a slowdown in exports. Many companies are now focusing on diversifying their markets outside of China to reduce their dependence on exports to China.
Despite these challenges, the cosmetics industry can recover if companies adjust and respond to the changing market dynamics and consumer preferences. This includes developing new products and complying with regulatory requirements to ensure continued exports and growth in the industry.
REACH24H's Commitment to Cosmetics Industry Development
---
REACH24H's participation in the workshop demonstrates its commitment to supporting the growth and development of the cosmetics industry. As a regulatory consulting company, REACH24H has extensive experience and expertise in helping companies navigate complex regulatory environments, particularly in the cosmetics and personal care industry. The company plans to continue to cooperate and exchange opinions with local companies to support industrial development in the future.
Overall, the 2023 Senior CosMediCare Empirical Center Workshop was a success, and REACH24H's contribution was highly valued by organizers and participants. The company remains committed to supporting the cosmetics industry by providing valuable insights and expertise to help companies succeed in a rapidly evolving marketplace.
For more information about REACH24H and its services on cosmetics, please visit https://www.reach24h.com/en/cosmetics.