REACH24H Korea Empowers K-Beauty Business at 2023 Government-Sponsored Cosmetics Seminar
---
SEOUL, 21 April 2023 – The K-beauty industry has eagerly awaited opportunities to reconnect and collaborate after the long pandemic. To facilitate communication and collaboration among industry players, the Korean Ministry of Food and Drug Safety (MFDS), Korea Cosmetic Association (KCA), and Korea Cosmetics Industry Institute (KCII) jointly sponsored the "2023 Cosmetics Industry Policy Forecast Seminar". This highly anticipated event was recently held in Seoul, South Korea, and organized by Weekly Cosmetics (Media), bringing together experts, government officials, and business leaders from the cosmetics industry to discuss the latest trends and policies affecting the industry.
Among the distinguished speakers was General Manager of REACH24H Korea, Seongmin(Mike) Sohn, who shared his insights on the current status of Korean cosmetics exports and relevant regulatory trends. This was Mr. Sohn's third time speaking at the seminar, alongside officials from the Korean Ministry of Food and Drug Safety (MFDS) and the Ministry of Health and Welfare (MoH).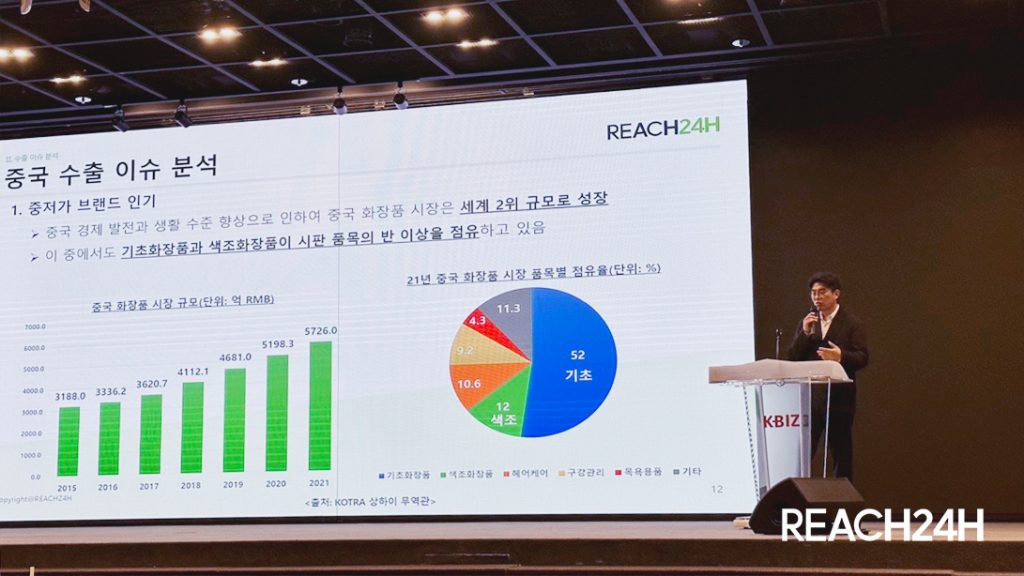 Seongmin(Mike) Sohn, Speaking at the Seminar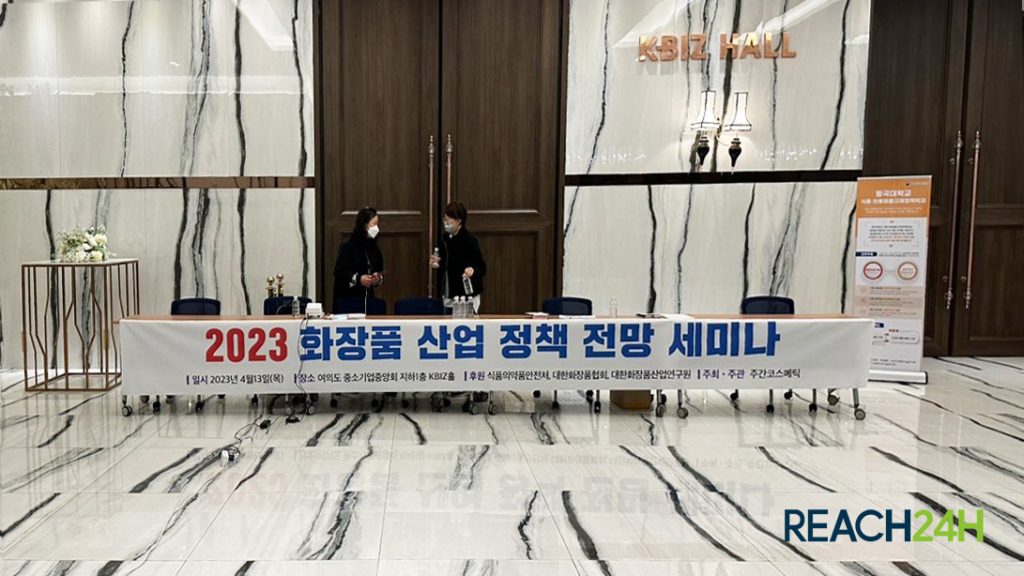 2023 Cosmetics Industry Policy Forecast Seminar
Insights on the Challenges Facing Korean Cosmetics Exports and Regulatory Trends
---
During his presentation, Mr. Sohn analyzed the challenges facing Korean cosmetics exports and emphasized the need for government support in overcoming these challenges. These challenges include changes in consumer perceptions, generational perspectives, local company advancements, young generations' patriotic consumption culture, cosmetics regulations, competition system changes, distribution channels, and trends. He also highlighted the impact of changes in Chinese regulations, which now require additional data submission, leading to increased costs and time.
The presentation generated significant interest, as it coincided with the announcement of corporate support programs by the MoH and the policy direction of the MFDS. Attendees had the opportunity to ask questions during the Q&A session, including concerns about the impact of regulatory changes on the industry and how companies can effectively cope with them. Mr. Sohn emphasized the importance of quick communication with experts and proper planning to adapt to regulatory changes. He also noted that major market players are already taking action to adjust, such as re-registering products.
REACH24H's participation in the 2023 Cosmetics Industry Policy Forecast Seminar showcases the company's expertise in regulatory affairs in the cosmetics industry. Their valuable insights and analysis provided attendees with significant knowledge, and their continued involvement in industry events demonstrates their commitment to the cosmetics industry in Korea.
For more information about REACH24H and its services on cosmetics, please visit https://www.reach24h.com/en/cosmetics.