REACH24H Will Join In-Cosmetics Asia as Guest Speaker, to Decode APAC Cosmetic Regulatory Dynamics
---
BANGKOK, October 24, 2022 – In-cosmetics Asia will soon be open on November 1-3, 2022, at BITEC, Bangkok. As a leading personal care and cosmetic ingredient event in the Asia Pacific, in-cosmetics Asia will bring together global cosmetic ingredient suppliers, product manufacturers, as well as consulting companies to inspire, share insights and spark potential collaborations.
This year, REACH24H is honoured to be invited to participate in this event. Two regulatory experts, Seongmin (Mike) Sohn and Hyojin Jung, from REACH24H KOREA Co., Ltd., have been invited to share insights in the "Marketing Trends and Regulations Presentations" session, focusing on Cosmetic Supervision and Administration Regulation (CSAR) in China and APAC cosmetic regulatory updates.
Particularly, Seongmin (Mike) Sohn, General Manager of REACH24H KOREA Co., Ltd., has been invited to be one of the "Innovation Zone Best Ingredient Awards" judges for the third time, for his trustworthy expertise and rich experience in beauty, beauty devices and pharmaceuticals. As a KOL of the cosmetic market, he believes that trends, regulations, and market shifts should go together. Based on his experience and insights into the cosmetic industry, he once compiled the "K-wave white paper 2018 and 2019".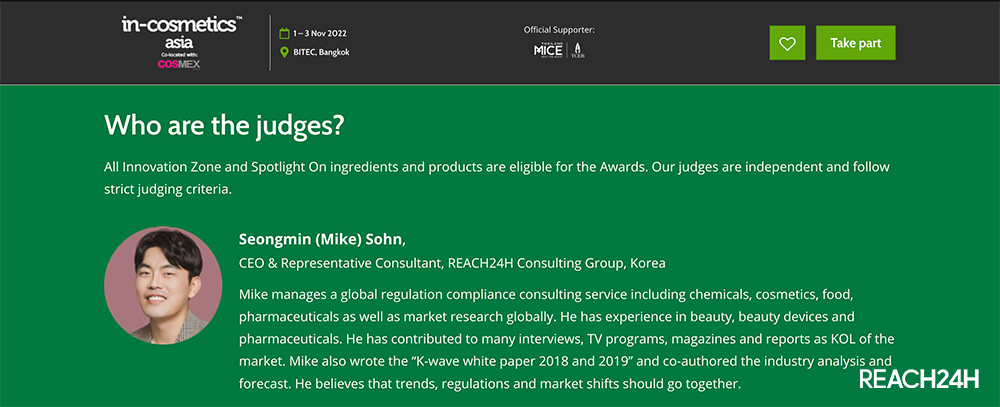 Seongmin (Mike) Sohn
Topics to be Presented by REACH24H
---
Topics
Date
Time (in Bangkok)
Speakers
In-depth interpretation of CSAR and regulatory trends in China
2 November
13:00 – 13:45
Seongmin (Mike) Sohn

General Manager

REACH24H KOREA Co., Ltd.

APAC cosmetic regulation updates for 2021-2022: China's Taiwan Region, Japan, ASEAN, India, and Australia
3 November
14:00 – 14:45
Hyojin Jung

Senior Researcher

REACH24H KOREA Co., Ltd.
 Visit REACH24H's Booth at R100
---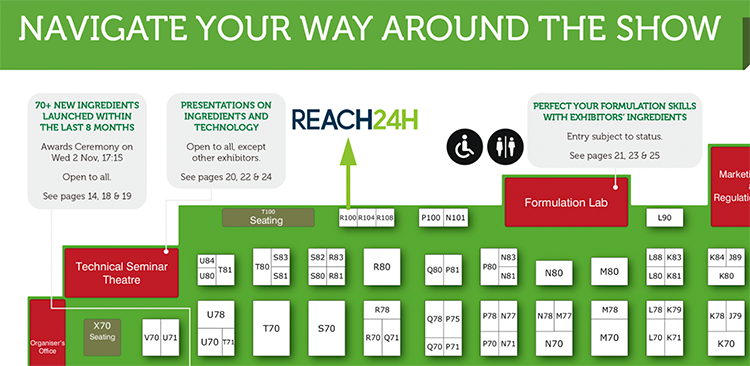 Booth Number: R100
If you have any questions regarding cosmetic regulatory compliance, we are pleased to welcome you to visit our booth (R100) and have an in-person conversation!
Reference Link
---