REACH24H Korea Chosen by KCII to Spearhead Cosmetics Market Expansion in Indonesia
---
SEOUL, 15 March 2023 – REACH24H Korea has been appointed as the Consumer Research Agency for the "2023 Skin Characteristics and Genome Data Information Construction" project in Indonesia by the Korea Cosmetic Industry Institute (KCII). The project's objective is to assist Korean beauty companies in developing localized brands and products by performing consumer surveys, skin clinical testing, microbiome analysis, and DNA analysis(whole-genome sequencing).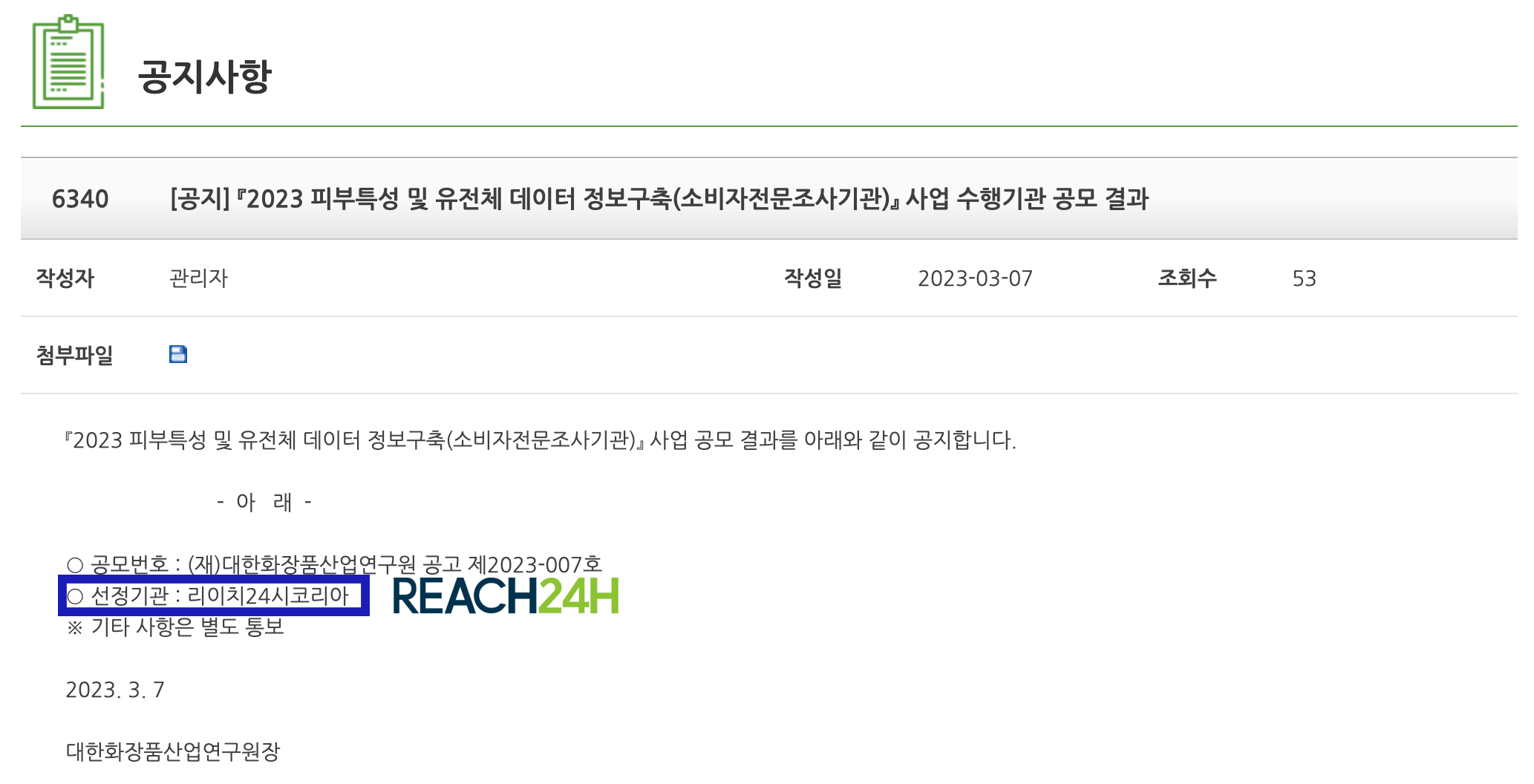 Official Announcement from KCII
As a competent agency, REACH24H Korea has been selected for three consecutive years (2021-2023) to conduct this project, based on the solid relationship with KCII and the Korean Ministry of Health and Welfare (MoH). This showcases the company's extensive experience and capabilities in the field of consumer research and analysis. We are honored to be recognized again by the KCII and MoH and are committed to utilizing our experience to ensure the successful implementation of this project.
| | |
| --- | --- |
| Year | Target Countries of the Project |
| 2021 | Vietnam, South Korea |
| 2022 | Thailand, South Korea |
| 2023 | Indonesia, South Korea |
*REACH24H Korea has been selected to execute this project for three consecutive years.
This year, REACH24H Korea will also be surveying 770 Indonesian consumers and 220 Korean consumers to identify consumer behavior, habits, and skin characteristics. The data collected from the surveys will be analyzed and used to develop more effective marketing strategies in Indonesia for enterprises in the cosmetics industry.
With its expertise and experience, REACH24H Korea aims to expand the market for cosmetic companies and contribute to the growth of the cosmetics industry in Indonesia.
About REACH24H Korea
---
Since its establishment in 2019, REACH24H Korea is committed to helping enterprises to access the global market, relying on professional technical strength to become a trusted partner of many enterprises. In the past years, REACH24H Korea has successfully completed several market research projects with the Korean government.
About KCII
---
Korea Cosmetic Industry Institute (KCII) is the first and only cosmetics research organization jointly established with the private sector, the Korean government (Ministry of Health and Welfare), and the local government (Gyeonggi Province and Osan city). Its mission is to strengthen the global competitiveness of the Korean cosmetics industry and promote public health in the country.
About DB Establishment of Skin Characteristics by Countries
---
The establishment of a database on skin characteristics is one of the main projects of KCII and MoH, which began in 2011. The project aims to gather basic information such as skin characteristics, makeup habits, color preferences, and skin concerns by race in each country. This information is essential for developing products for overseas export. As of this year, database information for 17 countries worldwide has already been compiled. The project is still expanding to include more diverse measurement items and countries.
Reference Links
---